After launching just over a week ago, Threads – Meta's answer to Twitter – has catapulted to 100 million users, making it three times bigger than every previous Twitter rival combined. A usership that was built by Twitter over years was usurped in hours.  
Whilst it is undeniably the strongest competitor yet to Musk's tumultuous platform, there still remains some questions for brands to consider when deciding whether to launch into the space.  
Here's our guide to everything you need to know about Threads, and our expert view on what brands need to do to prepare for the age of Threads. 
What is Threads and how does the app work? 
Threads is a 'public conversation app' creating a new space for conversations and ideas. Current key features: 
Posts can be up to 500 characters long and include links, photos, and videos up to 5 minutes in length

 

Posts can be deleted, but not edited once live 

 

It's linked to Instagram, meaning you need an Instagram account to get Threads. You can easily choose to auto follow the same Threads accounts you do on Instagram, meaning people aren't starting from scratch. However, this also means you can't fully delete a Threads account without also deleting your Instagram account. 

 

This means verified accounts on Instagram also start with a verified account on Threads – useful for brands and public figures

 
The algorithm is currently fairly basic, and Instagram boss Mosseri has confirmed they're 'lightly' ranking content in the platform's early days, which is why users will see a mixture of content in their feeds – for critics this currently feels a bit random.

 
What is Threads vs Twitter? 
What we're currently seeing is a very early version of the app, so many of these features are likely to emerge soon, but there are significant omissions from other platforms like Twitter currently, including: 
No lists (useful for brands and media to curate dedicated feeds)

 

No content search function, hashtags, discovery or trend feeds

 

No DMs

No drafts or edit button

 

No alt text (useful for accessibility)

 

No chronological feed or option to choose a feed with only those you follow

 

No native option for gifs or polls

 

No bookmark or save option

 

No pin (post) to profile feature

 

No ads

 
Zuckerberg has confirmed that they want to 'get the app right first', so more advanced functions like paid ads will not be developed until Threads is on a pathway to 1bn users.  
What is the upside of Threads? 
It may sound basic, but one of the benefits of the platform is that

it's not Twitter

. Twitter has faced uncertainty for some time under Musk's reign, as users criticise the unpredictable changes to platform (including penalisation to those who don't subscribe to Twitter Blue), and Musk's general leadership and politics. Threads offers similar functionality and a similar promise to facilitate 'public discussion', but in a more stable, Musk free landscape. 

 
It offers potential for longer term

connectivity

. The fact that it's from the Meta family, and users could merge followings from Instagram meant that users were able to quickly launch into conversation, rather than start from scratch. The platform has also been built on a decentralised platform 'Activity', which means users can integrate their accounts with other (existing and new) apps from the platform… this could be a long term eye on the growth of the metaverse.

 
From uptake so far, Threads has been a

kinder, more positive space.

Some have heralded its launch as a return to the 'good old days' before Twitter became so polarised and 'toxic', and hope that the community will keep the platform positive. Functionally, the platform also better safeguards against trolling as replies from other users can be hidden and DMs aren't yet available.

 
What is the downside of Threads? 
The flipside of this kinder and more safeguarded community is that critics may feel it's

too sanitised and frivolous,

and not able to host political debate. We know that Meta has employed fact checkers and is implementing fact check warning labels on content, and generally Twitter's culture has become an open field for debate and alternative narratives

 
Related to that, Twitter has built ownership of the news, political, media and sport landscape for 'in the moment' conversations. The current immaturity of the Threads algorithm, paired with the fact that Threads stems from a heritage of more lifestyle and personal content, means that we predict the

corporate/policy/media audience might be slower on the uptake

. This is not helped by the fact that the Meta integration may have a downside for these audiences, as they may not want to link with their typically private Instagram accounts.

 
The platform's immaturity does mean there is currently a

lack of functions

that a brand would want in order to use the channel as a one stop marketing shop. But many of these, such as paid ads, will come in time – and when they do, marketers can hope to drive efficiencies by being able to manage and optimise ads across the Meta business suite in one place. 

 
How are brands and creators already using Threads? 
Many brands including Monzo, The Royal Mail , Bloomberg Business, the Financial Times, Netflix, TFL, and Dominos have quickly adopted the platform. Whilst many have just claimed their profiles and sat dormant, others have launched into conversations. Main themes of content include: 
Memes and 'reactions'

to the platforms launch. So far the platform has fostered a more informal, humorous, and personal tone with many first posts giving witty remarks about being new to the platform, or 'breaking the fourth wall' by writing from the POV of the social media manager getting to grips with the new account

 
So far the platform has been much more two way, with many posts directly asking for

audience engagement

with questions like 'what content do you want to see here', or asking questions about the brands service or products. There does seem to be a healthy appetite for audiences to engage positively with brands.

 

Cross posting usual Twitter content

– many organisations, media outlets in particular, have begun simply lifting their usual Twitter strategy and applying it to the Threads

 
Some of our highlights have been from Monzo, The Royal Mint, Royal Mail, Bloomberg, and Quorn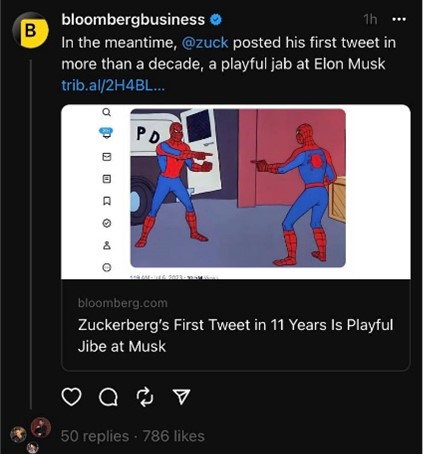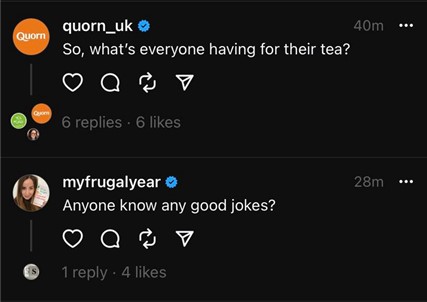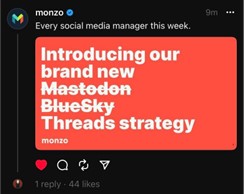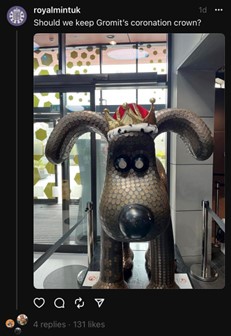 Our recommendations for brands on Threads 
It's too early to say whether Threads will 'replace' Twitter, but it's clear to see it's a force to be reckoned with.  
For the coming weeks, brands should make sure they have someone on the ground exploring the app and understanding its tone, functions, and community. 
For those with the resource and an established presence used to interacting with audiences, you stand to gain by trialling the platform with some low investment test and learn. Early adopters will benefit from a less competitive algorithm and set themselves out as frontrunners on the platform, but should consider whether they'd have the resource ready to invest into a longer term Threads strategy and content programme should performance go well.  
For now, where Twitter is a part of your strategy: maintain it and closely monitor any fluctuation in results.  
In the coming months, we'll have a clearer idea of the place Threads will fill in the social sphere – here is when brands can start to make calls on whether Threads should become an always on part of their comms mix, and whether it should replace Twitter. 
The key to any good brand social strategy is understanding first where your audience are and what they expect, and then building engaging content that feels native to those platforms and styles. 
In short: have fun with it for now but don't immediately pivot completely away from Twitter.