23 Sep 2022
Health: Everything EU Need to Know
Welcome to MHP Mischief Health's Health: Everything EU need to know newsletter, our round up on all things health across Europe. In this edition, we look at what European health policymakers are seeing and saying on social media, round up some of the major recent stories, and share a lookahead to elections over the next few months. From monkeypox to medicinal cannabis – we cover it all.
What are health policymakers Tweeting?
Politicians love Twitter. The average politician will Tweet far more than they speak in their legislature; on average, Twitter-using legislators in the UK Tweet 70 times a month. Even unelected senior officials, like Chief Execs of national health services, use Twitter to broadcast good news and achievements.
Using media monitoring software, we conducted a social listening exercise to identify what health policymakers across Europe have been tweeting about this year, and to understand the issues which are front of mind.

Germany: COVID-19
While COVID-19 was a common theme across Europe, it dominated German social conversation to the greatest extent. Conversations about booster vaccinations were particularly prominent; Health Minister Karl Lauterbach's cautious approach to COVID-19 might be controversial with some, such as the liberal Free Democrats, but it has the noisy support of other centre-left parties.

Italy and Spain: COVID-19 recovery plans
EU-funded recovery plans such as Italy's NPRR (National Recovery and Resilience Plan) and Spain's 'Plan de Recuperació'featured. Regional health ministers in Italy were particular fans.

Brussels: Refugee health
The Commission's health leaders, Sandra Gallina and Stella Kyriakides (Director General and Commissioner for Health and Food Safety respectively) have been tweeting frequently about the health needs of refugees – prompted by the number of people fleeing the war in Ukraine. By comparison, European Parliamentarians tweeted more about cancer and the future of healthcare.

France: Healthcare professionals
Given the planned changes to general practitioner 'zoning' in France and the pressure healthcare professionals are under post-pandemic, it's unsurprising that a big Twitter theme across both politicians and Director Generals of France's health agencies is dialogue with professional associations.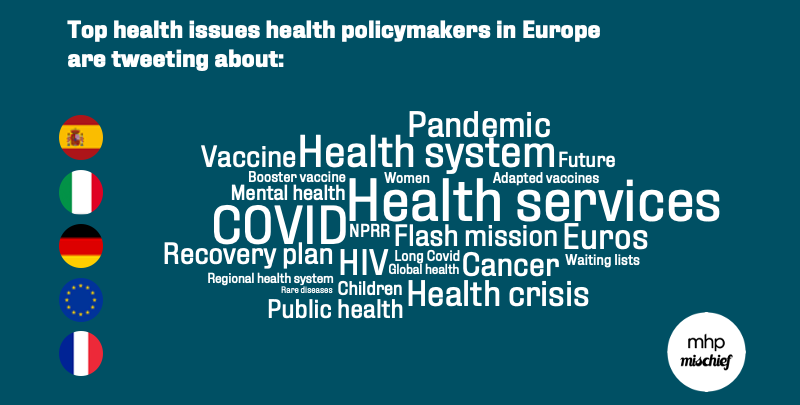 | | |
| --- | --- |
| | Italy |
In the run-up to the Italian general election (25 September 2022), abortion has become a contentious topic between parties. There is concern that the front runner, right-wing Brothers of Italy (Fratelli d'Italia) party would make abortion policies in the Marche region – where abortion is currently accessible – "worse than Texas". Popular influencer Chiara Ferragni posted in defence of abortion on Instagram and received support from the centre-left Democratic Party parliamentarian Alessia Morani who stated that "a lighthouse is lit on the Marche governed by Fratelli d'Italia. We have been carrying out this battle for two years amidst the indifference of most people".
COVID-19 death rates remain high in Italy due to the varied reporting of deaths, as well as a very slow uptake for the fourth vaccination round that meant the recent summer wave had a large impact on those aged 60+.
| | |
| --- | --- |
| | France |
New Health Minister and former emergency clinician François Braun has launched a "flash mission" in response to the strain that emergency care services are under. The mission includes adapted pathways and triaging processes, and was a set of recommendations Braun made before he was in Government. The results of this flash mission will be evaluated in September 2022 so that learnings can shape the 2023 Social Security budget.
Braun also introduced a pilot scheme for pharmacies to administer monkeypox vaccinations. To date, 220 vaccine centres in France have rolled out more than 70,000 doses of the vaccine and this was expected to have risen to over 140,000 doses by 4 September. France's roll-out has been impressive: individuals from countries such as Belgium, Switzerland, Spain and Italy have been crossing borders to access the vaccine.
Public Health France, in its latest 'Health in Action' journal, focuses on the introduction of 'health mediators' to the wider health system. Instead of solely helping patients overcome barriers to accessing specific services, it is proposed that these mediators play a more holistic role in access to care, as well as health promotion and disease prevention.
| | |
| --- | --- |
| | Germany |
After legalising medical cannabis in 2017, Germany has become the largest medical cannabis market in Europe. And while Europe's medical cannabis market size is set to grow at CAGR 29.5 per cent, Germany is expected to continue to dominate the market due to rise in knee osteoarthritis and knee arthroplasty surgeries. Forbes estimates that by 2024, more than one million German patients will have access to medical cannabis.
Germany has published its Autumn and Winter COVID-19 plans in expectation of a resurgence. The seven-point plan involves a bolstered inoculation programme and improved testing. Given the German Health Minister's background as a commentator on the pandemic, it's unsurprising that he is also supportive of rolling out vaccines and treatments for the virus.
The German Parliament has voted to remove a ban on healthcare professionals providing information on the abortion process. Explicitly responding to the recent Supreme Court Roe v Wade decision in the United States, a German Member of the European Parliament has been pressing for the EU to do more to support women's health globally.
| | |
| --- | --- |
| | Spain |
The Council of Ministers has approved a draft law for the creation of a State Public Health Agency (Agencia Estatal de Salud Pública – AESAP).  While the Spanish Government is presenting this as a reform rooted in the COVID-19 pandemic, AESAP will also have responsibilities for non-communicable diseases through monitoring, evaluating, and supporting interventions under the Health Promotion and Prevention Strategy. This emphasises health promotion in pregnancy, parenthood and old age, aligned to the European Innovation Partnership for Active and Healthy Ageing.
As well as pushing through the establishment of this new national agency, Health Minister Carolina Daris recently praised local, municipal action, noting that 32 local authorities have adopted the national commitment to end HIV as a public health threat by 2030.
| | |
| --- | --- |
| | Brussels |
In May 2022, the European Commission announced the launch of the European Health Data Space (EHDS) to foster a single market for digital health services and products, offering a framework for the use of health data for research innovation, policy-making and regulatory activities across the EU. The European Data Protection Board (EDPB) and the European Data Protection Supervisor (EDPS) have released a joint statement commending the efforts but noting a number of concerns, particularly over the facilitation of the secondary use of electronic health data.
Santino Severoni, director of World Health Organisation's (WHO) Health and Migration Programme, has raised concerns that significant variation exists between the health of refugees and migrants in comparison to host country populations. The topic remains politically sensitive; the immigration developments since 2015 bring challenges for the EU to decide how to collectively respond to refugee and migrant health issues.
Lookahead
Election time – the next couple of months are going to be busy…
Following British Prime Minister Boris Johnson's resignation, the Conservative Party have elected Liz Truss as leader of the party and therefore Prime Minister of the UK

Liz Truss has since appointed Thérèse Coffey as Secretary of State for Health and Social Care
Following Italian Prime Minister Mario Draghi's resignation in July and the dissolution of the current Italian Parliament, Italy will be electing his successor on 25 September

According  to polls, Brothers of Italy and the centre-left Democratic Party are leading
A general election will take place on 1 October in Latvia

Currently the Harmony party (Social Democratic) are in power

According to polls, New Unity (liberal conservative) are currently in the lead, followed by National Alliance (right-wing populist and national conservative)
Following three Bulgarian general elections in 2021, a fourth will take place on 2 October

Leading in the polls are the current centre-right party in power, Citizens for European Development of Bulgaria (GERB)
A presidential election will take place on 9 October in Austria

The current president, Alexander Van Den Bellen of the Green Party, is currently leading in the polls

If, similarly to the last election, no candidate wins a majority in the first round, a run-off will be held
This month's contributors
Noah Froud
Senior Account Manager
Noah is the brains behind our newsletter, and previously worked for a Member of the European Parliament. He's an unashamed health policy nerd and has his finger on the pulse of UK and European developments.
Charlotte Moss
Account Manager
Charlotte is well versed in European policy, having studied Governance, Economics and Development in The Hague, the heart of European justice and political capital of the Netherlands.
Neil Moscovici
Senior Account Executive
Neil holds an MA in Geopolitics and Grand Strategy, and before joining MHP worked for the European Committee of the Regions in Brussels.
Beth Harwood
Account Executive
Beth recently joined the MHP team following her master's degree in Global Public Health.