Reuters Institute report reveals a steep drop in news consumption among young people
By Ian Kirby,  former Political Editor of the News of the World
There are now two adult generations, with ages ranging from 18 to 35, who would never consider regularly buying a physical newspaper. And the younger members of this group are also highly unlikely to have looked at a news website, let alone an inky newssheet as they get their news direct from social media.
Oxford University's Reuters Institute Digital News Report 2023 is the most authoritative global survey of attitudes to news and consumption habits. The latest edition, published this week, demonstrates the majority of news consumption has moved from print and television to digital and is now quickly shifting beyond this to TikTok, Instagram and YouTube.
The new research shows:
More people now access news via social media than via traditional websites, but they don't share it – meaning personal stories have greater reach than "straight" news
Traditional news brands are failing to respond quickly enough by embracing new channels that might attract the younger audience they need to secure their future
In the UK, these brands are relying on agenda-setting stories to preserve their dominance of the daily news agenda, but financial challenges continue to deepen
Meanwhile a growing proportion of people are avoiding the news due to the negativity of major themes dominating the headlines, or because they don't trust it.
The global picture
The strongest legacy news brands in countries such as the UK and USA are managing stem of decline more slowly, but in the Global South traditional news outlets are disappearing as the use of TikTok, Instagram and YouTube rise, with influencers and celebrities more likely to be regarded as reliable sources of information.
Consumption of traditional media, such as TV and print continues to fall in most markets (down 8% year-on-year), with online and social consumption not making up the gap. A rising proportion of people (36%) say they are now actively avoiding the news – because they don't want a reminder of a grim agenda that has been dominated by war, pandemics and divisive political agendas or because they don't trust it.
Despite the political and economic threats facing many people, fewer than half (48%) of Reuters Institute's aggregate sample now say they are very or extremely interested in news, down from 63% in 2017.
What does this mean for traditional news brands?
Traditional news brands continue to lag far behind the readers they are seeking to attract, according to the report They are stuck in a cycle of serving the readers they have rather than investing in change to attract the future audiences they need to attract. Only 50% of top publishers create content for TikTok, despite 44% of 18- to 24-year-olds saying they use it and one in five using it as a primary source of news.
Social media is the new gateway
Meanwhile, social media is now the gateway to content. Almost one in three (30%) people say they access news via social media, while only one in five (22%) goes to a news website first. In the UK, the over 35's habits haven't changed much in the last five years, but only 24% of 18 to 24s say they ever access news via a website. They are also less likely to click through, like or share content – just 10% of UK social media users share news stories.
And the algorithms of Facebook and Instagram favour personal stories over news content and news organisations cannot monetise the content they are producing for social media. Its previous role as a conduit to their own news sites is fading as people scan the content then stay on the social media channel.
Interest in news is fading
The rise in news consumption seen during the covid pandemic has faded away. The report reveals only 48% of respondents say they are interested in news, and – worryingly for news media – only 17% are willing to pay for it. Only 9% of the UK respondents said they pay for a news website subscription, among the lowest in the world (although the report didn't explain to them they do pay for the BBC via the licence fee). Tough economic conditions mean news subscriptions are increasingly seen like gym membership – over a third said they had cancelled or renegotiated the cost of the news they were paying for.
The remaining audience, which actively consumes and shares news, is more likely to be male and better educated but partisan.
Fake news on the rise
Another factor behind in the interest in news fading is the increase in concern about disinformation. Almost a third (31%) of news users in the UK said they had seen fake news on Covid, 26% on politics, 22% on climate change and 19% on the war in Ukraine.
UK in focus
The Reuters Institute says: "The UK media scene is characterised by strong public and commercial broadcasters and a competitive and outspoken national press. But both sectors are under pressure from changing audience behaviour, falling revenue, and rising costs."
While the BBC's coverage of the Queen's funeral was watched by 22m people, the Corporation is required to save £500m a year and embarking on deep and extensive cuts. Newspaper sales are down between 8% (the i newspaper) and 23% (the Sunday People).
Meanwhile, legal challenges continue to cost hundreds of millions of pounds to organisations such as Reach plc (Daily Mirror etc) and the Daily Mail group.
The report reveals revenues from subscriptions are continuing to rise from its low base, with The Times and Sunday Times doubling their profits, the Guardian gaining 1m subscribers and the Telegraph almost 600,000.
However, the robust nature of reporting has meant that traditional news brands dominate the news agenda, such as the Covid lockdown scoops of the Daily Mirror and ITN News. Extensive lobbying has also staved off government attempts to sell off Channel 4.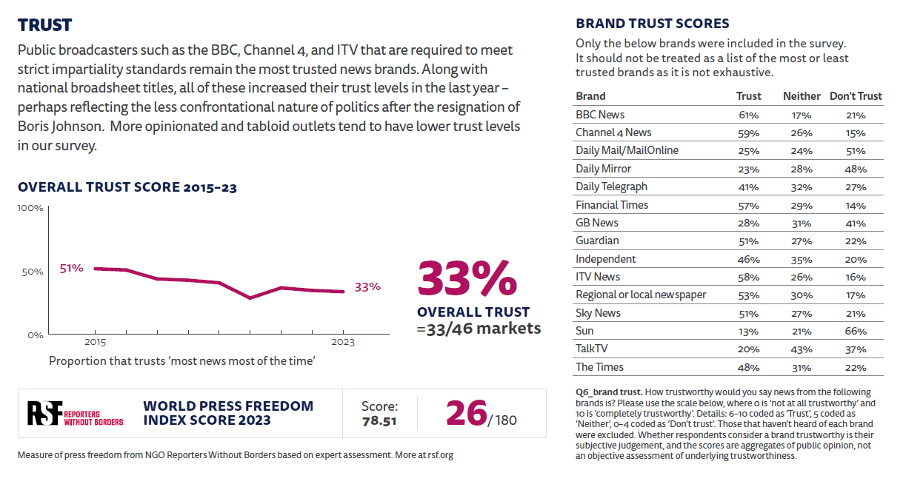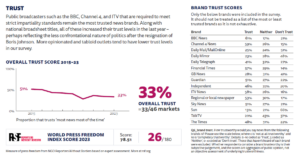 Other key stats: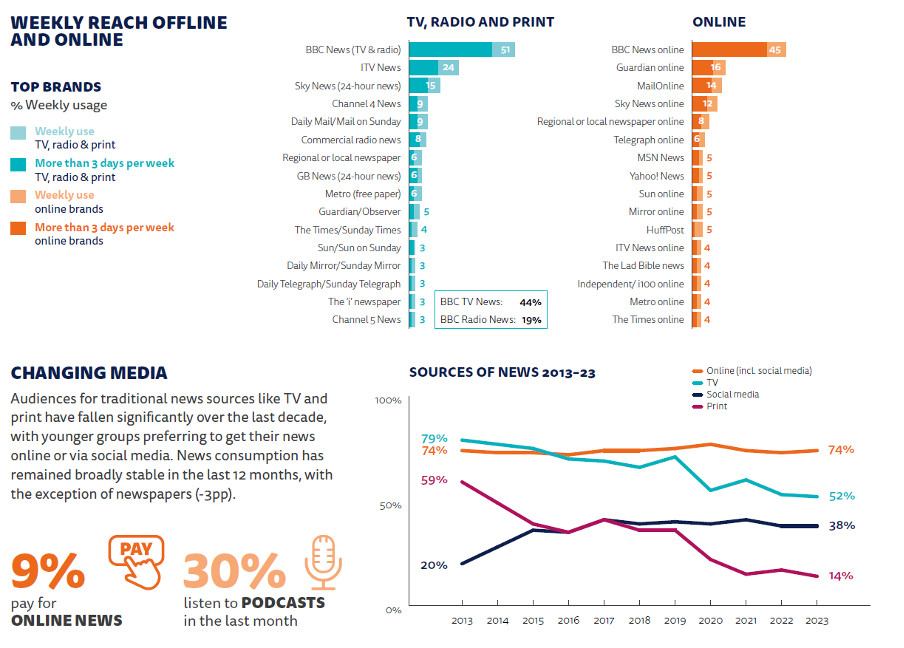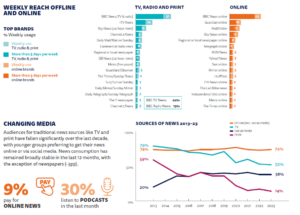 In summary
Nic Newman, one of the report's authors, says:
"While some individual news brands have been very successful at building online reach or even convincing people to subscribe, this year's data show how fragile these advances are in the face of economic and political uncertainty, fragmenting audiences, and a new wave of platform disruption. Even as a few winners are doing well in a challenging environment, many publishers are struggling to convince people that their news is worth paying attention to, let alone paying for.
"In the short term, growth is severely challenged by the combined impact of rising costs and falling revenues, as well as increasingly unpredictable traffic from legacy social networks like Facebook and Twitter.
"In the longer term, our data suggest that significant shifts in audience behaviour, driven by younger demographics, are likely to kick in, including a preference for more accessible, informal, and entertaining news formats, often delivered by influencers rather than journalists, and consumed within platforms like YouTube, Instagram, and TikTok."