Ian King looks to the US with his new Sky News show
The recent formatting change and re-brand of Sky News' premier business show, Business Live with Ian King, could present an opportunity to businesses looking to reach a US business audience.
In June, the show moved from its one-hour 10am slot, to two 30-minute hits, running at 11.30am and 4.30pm.
Output producer Martin Kimber told MHP that this opened up the show to a new US audience, with the 4.30pm broadcast suiting both the East and West coasts of America.
"We are always keen to speak to people who can comment on business and market news in the US, it's a fast-growing audience segment for us," Martin said. "The second show is also a chance for companies to respond to or address narratives or market rumours that have taken hold earlier in the session."
One thing that hasn't changed is the type of guests Martin is looking to book: "The ideal guest is a CEO of a FTSE 350 company or their equivalent from overseas. We are equally receptive to top analysts, fund managers, VCs and private equity folk, economists, investment bankers, accountants, lawyers – anyone with an interesting take on markets, economics, or business."
Business Live with Ian King is broadcast to more than 120 countries around the world and remains one of the most influential business shows on TV, but whatever you do, don't request a list of questions ahead of the interview.
Martin warned: "Ian rarely has a list of questions before interviews, it's not conducive to a flowing discussion, so don't bother asking."
City A.M. is saved, but what about The Telegraph?
By Alan Tovey, Former Daily Telegraph Industry Editor 
It's rare for a UK newspaper to be put up for sale, so the fact that both City A.M. and The Telegraph were on the block simultaneously was unusual.
The reasons behind each are different.
City A.M., a freesheet, has been loss-making with advertising increasingly shifts to digital, and the pandemic saw its target audience of London commuters increasingly work from home.
Its future looked bleak, with few likely buyers. However, a saviour emerged in the unlikely form of online health and beauty retailer THG, run by high-profile entrepreneur Matt Moulding.
As an indicator of what it means for brands, Moulding says his only rule for City A.M. is: "Where possible, be a cheerleader for both the UK and businesses alike."
The Telegraph's sale comes after it was taken over by Lloyds bank when the publication's owners failed to pay down debts of £1bn secured against Telegraph Media Group (TMG).
In the frame – according to industry gossip – are rival media groups, private investors, ex-Telegraph executives and Middle East sovereign wealth funds.
Unlike City A.M. The Telegraph makes money. TMG recently posted annual profits up by a third to £39m, driven by digital subscriptions and cost controls, will no doubt help ease worries.
The survival of both titles can only be good for the wider UK media landscape, ensuring a diversity of news and opinion that would otherwise be lost.
Reuters crowned king of the business beat
By Abi Smith
When it comes to business news, Reuters is the most popular outlet in the UK according to Press Gazette.
Reuters reached 8% of the online population in May, closely followed by Forbes and the Financial Times, reaching 7% and 6% of the UK respectively.
Insider – which took pole position in the 2022 rankings – suffered a 36% year-on-year (YoY) drop for reach, bringing it down to fourth in this year's tables.
Money Week witnessed the most significant growth – 458% YoY – thanks to an investment and push into its digital offering. Whereas the Wall Street journal took the biggest tumble, plunging 55% despite adding to its paying subscriber audience.
However reach isn't always the best metric.
The FT remains the most-engaged with business news brand, reporting more than three times as much as audience engagement as second-placed Reuters (15 minutes v 5 minutes per reader respectively).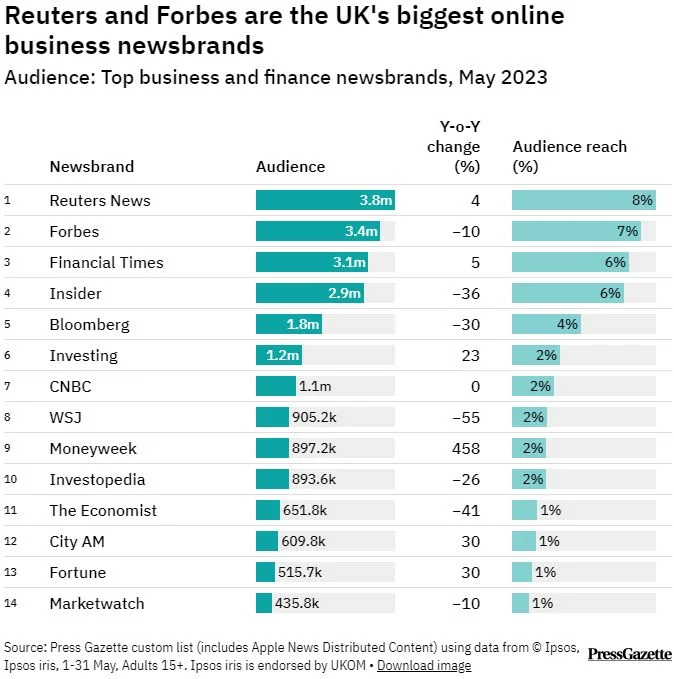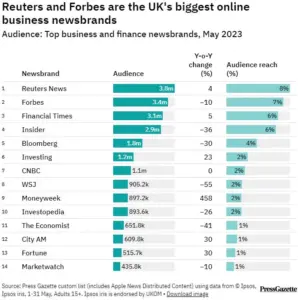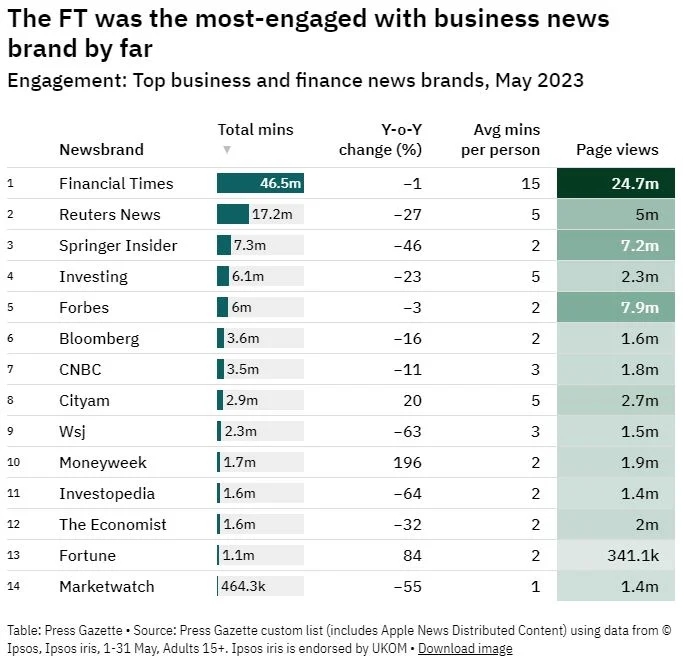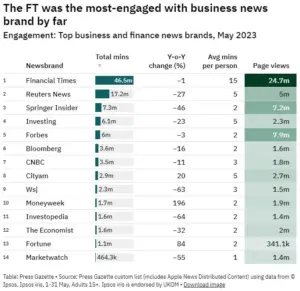 BBC remains news outlet of choice for Gen Z
By Abi Smith
After more than 100 years the BBC is still the most popular source of information for teenagers, according to a new Ofcom report.
Across all of its news platforms including the BBC iPlayer, radio stations, websites and TV channels, the Beeb was the most popular news source for 39% of 12 to 15-year-olds.
But the biggest single source for today's teenagers is TikTok with 28% saying it was an important news source for them, followed by YouTube on 25% and Instagram on 25%.
The shift away from traditional news sources comes from the younger generations looking to balance out serious news stories with lighter content. They are twice as likely to want news about sports (23%) and music (15%) as they are items from a hard news agenda (8%).
BBC Newsround, an appreciation
By Greg Double Creative Director at Mischief
Some advice for creatives looking to come up with reactive, culturally astute ideas…spend some time on CBBC Newsround.
What? The news channel for kids? Well, yes.
Newsround's stories are more 'consumer-friendly'. The vast majority of clients don't want to touch political scandals and economic doom but they might have a solution to 'flying ant day'.
If kids care, their parents care. More broadly, the Newsround site is a good bellwether for what young people are interested in. Its features heavily focus on the environment, summer holidays and mental health.
You might actually learn something. A little browse taught me about daffodils' ability to combat cow farts and why mosquitos prefer biting some people to others.
So if adult news is all a bit heavy, lighten your day with some news for kids. You might learn something.
The Guardian looks to Europe as UK sales decline
By former ITN reporter Charlotte Grant
A digital European edition of The Guardian is set to launch this autumn. The outlet will be looking for international revenue after the group reported a £5m dip in UK sales, amid ongoing print readership declines and a downturn in advertising.
The new edition follows on from the success of Guardian US. Earlier this year, Guardian Media Group chief executive Anna Bateson revealed a quarter of its reader revenue now comes from the US, its fastest-growing market.
The new edition means readers logging on in Europe will see a different version of the homepage with tailored content. Eleven new editorial roles are being created including a Scandinavia correspondent, community affairs correspondent and specialist reporters for environment, culture and sport.
Movers and Shakers
After three years writing The Times' Red Box email that shares political insight and gossip at dawn, Patrick Maguire has been promoted to senior political correspondent for The Times and Times Radio. However, Patrick will still appear in our inboxes on Fridays with his weekly column.
Having worked alongside Patrick for a year, Lara Spirit will take over next month, unpacking politics in what will be a busy season of party conferences.
Jack Barnet, economics editor at City A.M., is departing the paper after more than two "cracking" years, and is joining The Times economics team, where he will be working alongside economics editor Mehreen Khan.
Oli Gill, chief business correspondent at The Telegraph, is starting a new role at The Sunday Times, become industry and leisure correspondent, under editor Jim Armitage.
Bloomberg is ramping up its AI coverage and the technology team has appointed three journalists to begin reporting on the emergence, scope, and impact of new artificial intelligence tools. Boosting coverage of the new beat will be Seth Fiegerman, Shirin Ghaffary and Leon Yin who will start in September and are based in the US.