How to land science-led coverage with PA Media
James Rollinson and Jaber Mohamed sat down with PA Media's Science Correspondent Nina Massey to chat about the stories she's looking to write over the coming months.
How much are you still writing about Covid and the Pandemic?
Unless the science is new, I am not really writing much about Covid. I think at this stage a lot is known about Covid as a disease. Honestly, I'm looking forward to writing about all the other science stories that may not have been covered over the last two years.
What sort of sciences stories are you interested in?
The stories that work best at PA are the ones that are relevant to real people. The ones where people are impacted in potentially both good and bad ways. But at PA, the science remit is broad and I can cover a very wide range of topics – everything from space and dinosaurs to climate change and medicines.
Now that the pandemic is over, how do you want companies to engage with you?
I'm really keen to meet people in-person and get back to live events. I want companies to show me the science behind their work rather than just tell me about it. I don't mind travelling to visit organisations if they've got something interesting to show me. Seeing something for yourself always helps to bring the story to life a little.
Are you interested in exclusive stories?
Yes, PA is always interested in exclusive stories – we are always trying to tell new and interesting stories. And the best thing about giving us an exclusive is that it will go to all media organisations at both national and regional level.
The inside line on Times Deputy Business Editor Graham Ruddick's move to Substack
MHP Mischief's Alan Tovey spoke to Graham about the switch
Times Deputy Business Editor Graham Ruddick hopes to reach under-served markets with his move to Substack, the subscriber newsletter, where he will be writing "Off To Lunch".
Ruddick told MHP Mischief his daily newsletter, which could start appearing as soon as next week, will cover "what really matters in business, finance, markets, venture capital, tech and crypto".
He aims to exploit what he sees as a gap in the market, with traditional publications' coverage of certain areas – specifically the digital economy and venture capitalism – failing to connect with younger audiences.
His switch to Substack, which allows journalists to charge subscribers directly with the platform taking a cut, opens up a new avenue to place stories that might not find a home in established publications.
Substack's writers are unfiltered by normal structures of commissioning and editors, giving them the freedom to write about anything they want – and hope that there is demand for it.
After weeks of dominating the business pages, the war in Ukraine has now been overtaken by the cost-of-living crisis according to analysis by Pete Lambie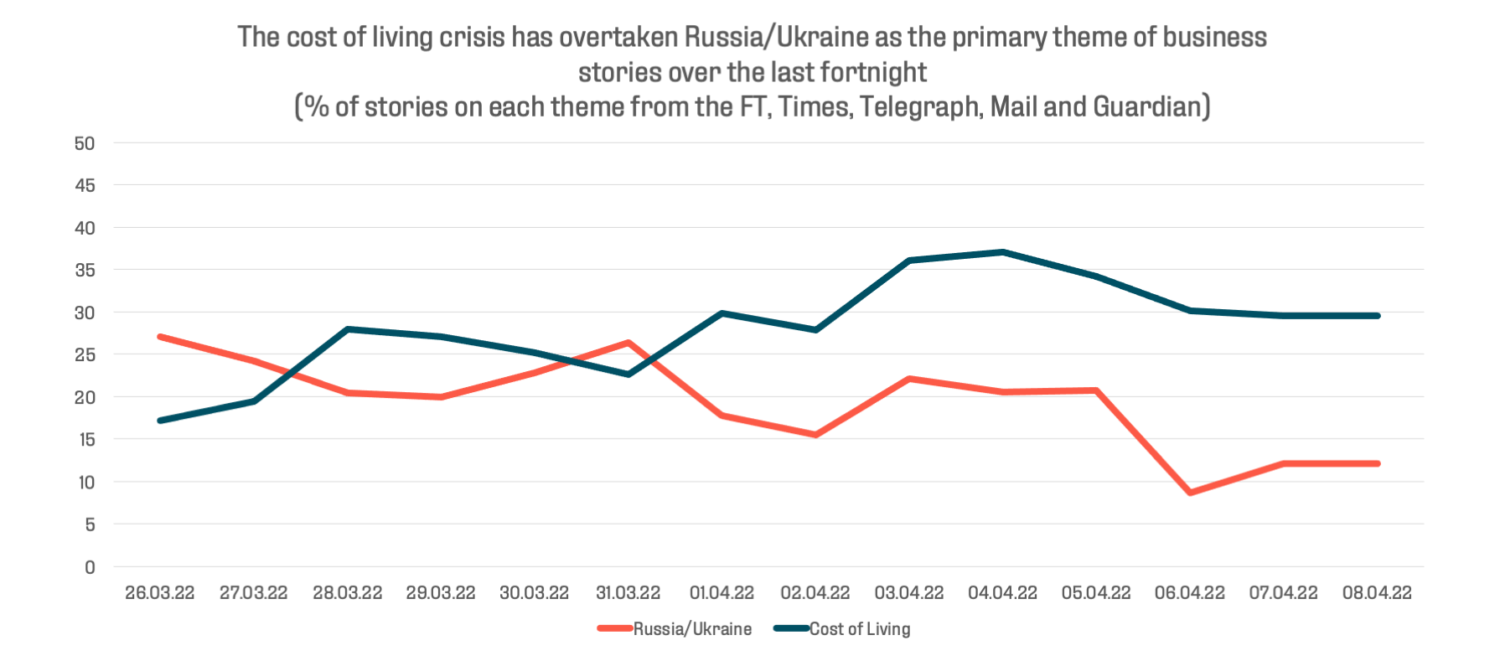 ITN staff nerves over mooted privatisation of Channel 4
Writes Charlotte Grant former ITN presenter and now broadcast consultant at MHP Mischief
The most divisive story of the week was the Government confirming it wants to privatise Channel 4. Presenters including Kirstie Allsopp, Anneka Rice and Monty Don all lined up to criticise the move.
Ministers insist it will free up the broadcaster to compete with streaming platforms like Netflix and Amazon. Others argue that Channel 4's less commercial output like drama, news and current affairs will suffer.
ITV is reported to have already voiced an interest in buying the channel.  Key to any sale being voted through by MPs, will be editorial independence and funding of news being ringfenced.
For staff at ITN-run Channel 4 News, it's an unsettling time. A source told us "there is concern over the continued uncertainty, C4 News has seen a lot of change over the past few months and this isn't ideal timing – but management and C4 bosses are keen to keep chatting about the ongoing process and any potential impact on the newsroom."
What do we expect to see on TalkTV?
MHP Mischief attended a preview event for the launch of TalkTV this week. News UK's new TV channel launches in two weeks, but what has it learnt from the successes and shortcomings of GB News?
At the event producers promised to deliver high-quality, balanced journalism – aiming to poach an audience that spans from the Times, FT and WSJ through to The Sun and Daily Mail.
With a USP of delivering content in a new way, producers want to see Piers Morgan boxing Mike Tyson, and playing tennis with Emma Raducanu, whilst still competing as a news heavyweight with a team of credible journalists behind it. Guest panels will feature heavily and news will be 'straight,' not coming from an ideological standpoint.
Producers will be on the look out for guests and stories from the get go, so brands should be already thinking about what they can offer that appeals to TalkTV's diverse intended audience.
Explainer videos generate record engagement
"Explainer" videos about the war in Ukraine are receiving record-breaking engagement from online audiences with one recent video on the reasons behind the Russian invasion attracting 15 million views across all platforms, Press Gazette reports.
It follows the success of the BBC's Ros Atkins, who has won a vast online audience through his series of explainers on issues ranging from UK politics to the Ukraine war.
After a period in which many news organisations have focused their growth strategy on opinion content fronted by star columnists, the success of fact-based explainer content demonstrates that online audiences are increasingly searching for reliable information as well as opinion.
Businesses developing thought leadership strategies or launching products in contested spaces should consider explainer content as a means of informing and engaging their audiences, as part of their content packages.
Movers and Shakers
Channel 5: Dan Walker is leaving the BBC Breakfast sofa to replace Sian Williams (another former Breakfast presenter) at Channel 5 News. He will anchor their flagship news show as well as other programmes across the channel.
Channel 4 News: After the departure of Jon Snow last year, C4 News have finally revealed their presenting line up for their flagship evening show. Krishnan Guru-Murphy will be the main anchor from their London studios, while Cathy Newman takes on the investigations brief alongside her presenting duties. Europe Editor Matt Frei will be the main foreign presenter and Jackie Long will continue presenting alongside her role as Social Affairs Editor.
Daily Telegraph: After five years covering finance, this week Lucy Burton started her new role as employment editor. Her new beat focuses on the evolving world of work and will include a weekly column. She has also said that she is not looking to cover survey based stories.