Rugby taught me to be comfortable with being uncomfortable," says James Waterhouse, a former professional sportsman who switched careers into journalism a decade ago and is now the BBC's Kyiv correspondent.
Waterhouse is speaking to MHP Mischief director Alan Tovey about what he has seen since arriving in Ukraine's capital in January.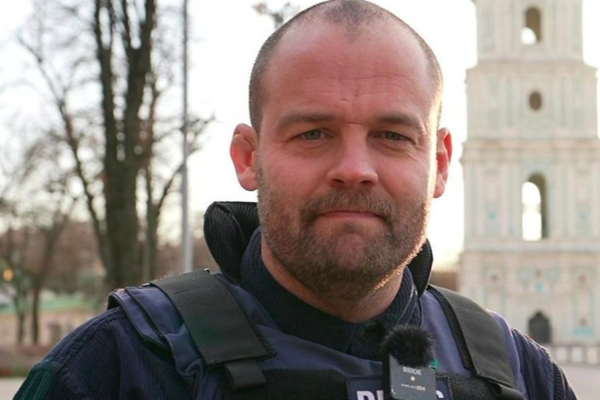 The interview – part of MHP Mischief's Media Network which offers insight into journalism – starts with sirens droning in the background warning of a Russian attack.
Waterhouse holds up the gas mask he was handed when he checked into the hotel the BBC is using as a base. "Not your normal room service," he quips.
He arrived in the country as tensions with Russia grew. His first lesson was that locals had got used to having a belligerent neighbour in Russia, something which had faded from the West's memory.
"Russia annexed Crimea eight years ago," he says. "We can't imagine that. It's like someone taking over Norfolk."
After months of tensions ratcheting up, Russia's deployment of troops on February 24 sent Waterhouse into a frenetic schedule – and a strange mindset needed to deal with life on the frontline.
"We were constantly broadcasting, every 10 minutes," he says. "The job got simple. Before the invasion it was geopolitical news, then it was reporting on life on the ground."
Constant pressure changed his way of comprehension, he says: "I stopped thinking more than an hour into the future for the first few weeks."
He developed an unusual way of coping with the sounds of war as the situation normalised: listening to hardcore dance music at high volumes on his earphones.
"Ironically, I got into heavy bass," he says, with Ibiza Club Classics a particular favourite.
Waterhouse has been surprised at the reception Western journalists have had, with locals coming up to him to share often heart-rending stories.
"I've been to towns the Russians have just flattened," he says. "There's nothing, just craters. It's like a film set."
As the conflicts bogs down and global interest wanes, Waterhouse says the challenge is no longer just about reporting events but "bearing witness, and cutting through the jargon and war of words".
He adds: "We've got to convey emotion and put Ukrainians at the heart of story. What we do today – through trust with our audience – will influence decisions in the future. What we report might make a world leader think twice in the future."
For Waterhouse, who modestly adds he "wasn't that great a rugby player", that means "staying curious, and keeping people interested" in the stories he covers – no matter how uncomfortable they might be.
For the full interview, click below: