A buoyant Labour Party gathered in Liverpool this week with one thing on their mind – power. Has this party conference done enough to bolster Keir Starmer's credibility as Prime Minister in waiting? What does business think of the announcements made by Rachel Reeves et al?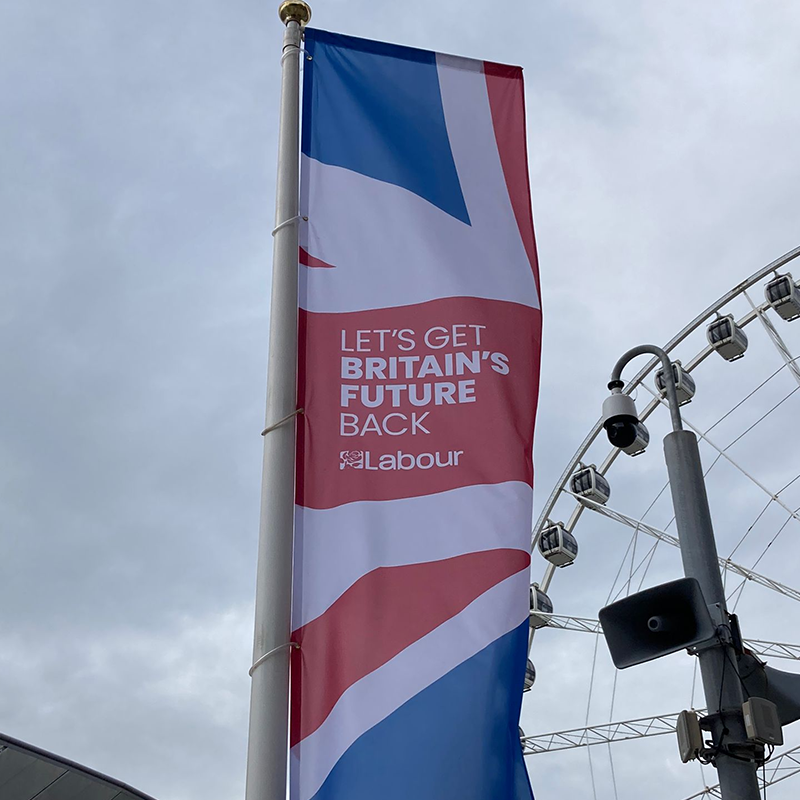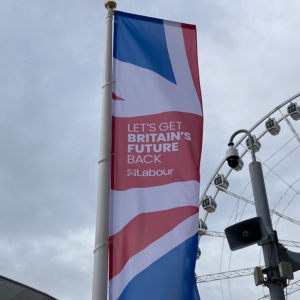 5 things we learnt
1. He's Keir for the long-term
Starmer's ambition was to deliver a glittering speech this conference – just not literally. After a protester doused the Labour leader in glitter, he could have been knocked off course. Instead, his response acted as a fitting motif of how Starmer has brushed off asinine protest to drive his party towards power. The speech was a clear attempt to set out why people should vote for him on his own merits, as opposed to being the least worst option compared with Rishi Sunak. Styling himself as the man to build a new Britain – literally, in the case of his planned new towns – Starmer also made it clear that the Milton Keynes and Crawleys of the future will not be built in a day. He wants to be a two term Prime Minister, hence a speech which over-indexed on the "vision" side of things. It was rapturously received in the conference hall, but he will be hoping the rest of the country are able to see beyond the images which are likely to dominate tomorrow's front pages.
2. Rachel Reeves: Iron Chancellor 2.0?
Woe betide which future Labour minister goes into the Treasury and asks for more money when Rachel Reeves is in charge. She adopted an almost Thatcheresque turn of phrase in her speech, saying that "change will only be achieved through iron discipline" and "when you play fast and loose with the public finances you put at risk family finances".  Securonomics, as Reeves repeated several times, is the name of the game and Labour hope it will be a key electoral differentiator. However, many dissenting voices are already asking how Starmer's pledge to deliver a "reforming state, not a chequebook state" can be squared with the borrowing necessary to deliver some of Labour's grander ambitions.
3. The new party of business
Mark Carney coming out to champion the Reeves speech fed into the mood music that business are enjoying themselves a lot more in Liverpool than they did in Manchester last week. Speaking to the party's business day, Keir Starmer said "if we do come into government, you will be coming into government with us". Changed days from under Jeremy Corbyn when the lonely few at the party's business day were viewed simultaneously as an inconvenience and a threat. Savanta polling for MHP – which found 45 per cent of senior business leaders believe a Labour Government would be best for business – is yet more evidence of the way the wind is blowing.
4. Labour is thinking and acting like a national party again
The Union Flag backdrop was inescapable in Liverpool. Coming a few days after Labour doubled its representation in Scotland to two MPs, the symbolism was obvious. After years of retreat from its old heartlands, Labour clearly feels it is on the cusp of becoming a genuine, cross-UK political movement once again. Rachel Reeves conscious effort of wrapping her "Securonomics" philosophy up in the language of "rebuilding Britain" was evidently designed to chime with those in the so-called Red Wall, who felt in 2019 Labour's conception of Britain didn't resonate with theirs. A gathering of Hampstead intellectuals this was not.
 5. Corbyn is yesterday's man
Beyond the palpable sense that power was in touching distance and the corporate schmoozing on the fringes, the most clear sign of Labour's progress was the deftness, maturity and sensitivity with which the leadership responded to the terrible developments in the Middle East. The absence of equivocation and fence sitting from Starmer and co. was a sign that this is definitively his party now.
Policy – What was announced?
Labour Leader Keir Starmer announced plans to build a new generation of new towns, alongside a further expansion of devolution in England.
Shadow Chancellor Rachel Reeves announced a plan to "rewire Britain" by removing barriers to investment in grid connections, facilitating £200bn of private investment and supporting 220,000 jobs each year between 2024-25. Alongside this, a future Labour Government would open up new grid construction to competitive tendering and impose a more extensive windfall tax on energy companies.
Labour would undertake a "clampdown on waste". Specific measures include reducing spending on government consultants, a review into how major capital projects can be delivered more effectively and the establishment of a Covid Corruption Commissioner.
Labour would legislate so the OBR has to issue forecasts for any significant tax change proposals.
Former TUC General Secretary Frances O'Grady will undertake a review into ways of eliminating the gender pay gap.
Labour will introduce a ban on zero hours contracts in the first 100 days of a Labour Government.
Shadow Energy Secretary Ed Miliband announced plans for an Energy Independence Act to enable planning reforms to facilitate the green transition.
Shadow Business Secretary Jonathan Reynolds announced a new sectoral plan for the automotive sector and would reinstate the 2030 ban on the sale of new petrol and diesel cars.
Shadow EFRA Secretary Steve Reed announced Labour will give Ofwat the power to ban the payment of bonuses to water bosses whose companies pump significant levels of raw sewage into rivers and the sea.
Shadow Levelling Up Secretary Angela Rayner said Labour would deliver the biggest boost to affordable social and council housing for a generation, by updating the Affordable Housing Programme, changes to local authority planning regulations and mandating developers to deliver social and affordable homes.
Shadow Health Secretary West Streeting announced a plan to cut the NHS backlog, funded by scrapping non-dom tax status.
Shadow Education Secretary Bridget Phillipson announced Labour will transform existing FE colleges into new specialist Technical Excellence Colleges. Separately, she announced Labour could bring back maintenance grants for poorer students by increasing the debt burden on wealthier graduates.
Shadow Culture Secretary Thangam Debbonaire announced Labour intends to publish a cultural infrastructure plan to protect and nurture cultural places.
Shadow Transport Secretary Louise Haigh announced Labour will publish a plan for bringing railways back into public ownership. Haigh will also commission an independent inquiry into HS2.
Shadow Home Secretary Yvette Cooper announced plans for a new cross-government national programme focused on opportunities for young people, youth mental health and tackling knife crime.
Labour will also introduce a Community Policing Guarantee to make streets safe again.
Labour viewpoint
By Joshua Kaile
A week is a long time in politics. At Conservative conference in Manchester the talk was of a sparsely attended event beset by a leaked HS2 announcement. Fast forward a week and you can feel in the air a sense of cautious optimism around the Labour Party and their fortunes at the next General Election.
This has been fuelled further by the party's stunning win in last week's Rutherglen byelection with a swing of over 20% from the SNP, a sign that Labour is back in the parts of the country it needs to win. Labour is also chiming with business; MHP's recent polling research, conducted in partnership with Savanta has shown that 45% of business leaders think Labour is "best for business".
This was clearly evidenced by fringe meetings and business events over subscribed and packed to the rafters.
Labour frontbenchers have been keen to capitalise on the growing enthusiasm around the party and demonstrate the ambition they have for the country. So Keir Starmer had a big challenge to meet during his speech. A challenge only exacerbated by a protester storming the stage as he began to talk and throwing glitter over him. A stunned conference hall didn't initially know how to react.
But Keir's response to take off his jacket, roll up his sleeves and carry on, typifies the leadership he has demonstrated from day one and the qualities he wants to bring to the office of Prime Minister.
This was a speech that set out that Labour is moving from a party of protest to a party of power, and in some ways, the unscripted protest made that point even more powerfully than words alone could have. For all the bold policy announcements on building new homes and towns set out by the Labour leader, it will be his response to the protest that captures the headlines and shows the public exactly who Keir Starmer is.
Ambition, determination and bravery were the themes he wanted to set out with words, but in his unflappable reaction to the events that unfolded he made the case powerfully.
Keir Starmer had taken Labour from a party of protests to the cusp of power. "Britain can, Britain will get its future back" was a clear rallying cry for Labour activists to take the country in the months ahead.
Conservative viewpoint
On the face of it, Labour's announcements have all felt a little, well, Conservative haven't they?
Since the 2010 election defeat, Labour have been dogged by the unrelenting attack that they cannot be trusted with the economy. Liam Byrne's 'there's no money left' letter is regularly used to remind the electorate of past errors. That is the demon they have sought to slay over their party conference in Liverpool.
In order to fund their myriad proposals, Shadow Chancellor Rachel Reeves has confessed to the need to increase government borrowing – something Chancellor Jeremy Hunt has already lambasted as £28 billion of additional debt every year which is "a fairy tale for the British economy with no happy ending – just higher inflation, higher mortgages, higher debt and lower growth."
Not mentioning the word 'inflation' in her speech, gave Hunt an additional attack angle – Labour, he says, still can't be trusted with the biggest economic challenges facing Britain.
Labour have doubled-down on imposing VAT on independent school fees, something Conservatives immediately seized upon as a tax on aspiration. In a country crying out for hope and social mobility, this is unlikely to be a fruitful campaign in those Red or Blue Wall constituencies that Labour needs to win to secure a majority.
Sir Keir Starmer's housing announcement, and the promise to release low-grade green belt land for easier development, will again be used in the Blue Wall as a demonstration that Labour aren't interested in protecting the communities of our green and pleasant land, but instead are intent on turbocharging character-less urban sprawl.. Which group is larger in 2024, the NIMBYs or the YIMBYs, will be a crucial test of the next election.
The real test of a party conference is whether it has moved the dial in the minds of the electorate. The Conservatives will be disappointed by the lack of a poll bounce post-Manchester, but Labour have given them a lot of material to work with in recent days.
MHP's sister agency Savanta asked 2,000 people to give them one word to describe Keir Starmer: 'boring' was by far and away the most chosen. Given the political and social turmoil of recent years, Labour may want to chalk that up as a win.
What else has been happening at conference and what comes next?
Our exclusive Savanta polling on the attitudes of business towards the two main parties was covered extensively in the New Statesman, where Associate Director Josh Kaille gave his views on the future trajectory of Labour's relationship with the corporate world. Our team in Liverpool have also been recording a short series of videos reacting to developments at conference, which can be viewed on our LinkedIn and X pages.
With Labour and the Conservatives concluding their party conferences and Westminster returning next week, attention turns towards the King's Speech on 7thNovember and the Autumn Statement on 22nd November. The public affairs team will be covering the build up to and aftermath of these two set piece events.
If you would like to get in touch with the team, please contact Head of Public Affairs, Tim Snowball, at [email protected]