Working with our sister agency House337, we helped Women's Aid raise awareness of the increased frequency of domestic abuse that major sporting events can trigger in existing abusive relationships. Here's the story behind the campaign.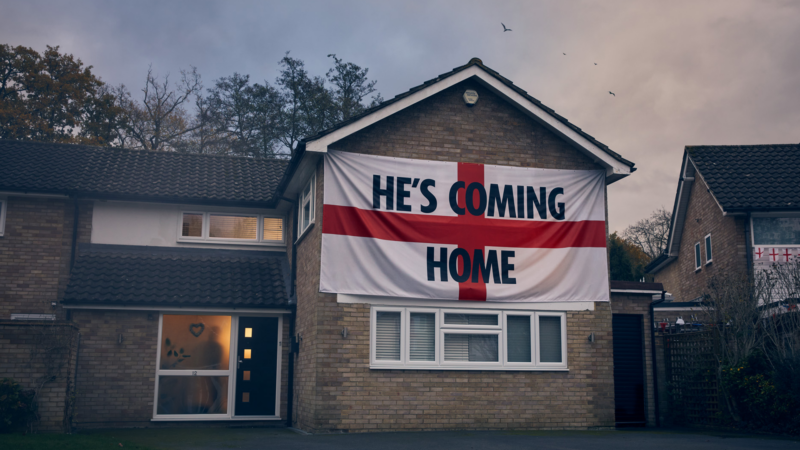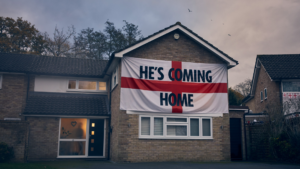 From Women's Aid's own research, we knew that sporting occasions could see existing domestic violence increase by 38%. With this year's FIFA World Cup held during winter, many abusers would remain at home to watch the matches rather than in other social spaces like the pub, leading to a heightened sense of fear in some homes.
Our aim was to show that Women's Aid is always available to support those in dangerous situations, particularly during a moment that many don't realise could be traumatic.
We took Women's Aid's own research, which found that when the England national team plays (win or draw), domestic violence incidents increase by an average of 26%, and distributed these key findings to media. But to re-engage the media and the public with this important issue, we needed powerful creative.
Artist, Corbin Shaw, was brought on board to create a series of eye-catching artworks featuring slogans including "He's Coming Home" which were installed in out of home billboard spaces up and down the country in key high footfall locations. House 337 created a striking short film to coincide with the launch, which was hosted on Women's Aid social channels.
All of these assets were distributed to media and launched to the public ahead of one of England's World Cup group games, which coincided with the International Day for Violence Against Women.
The results
Due to the eye-catching visuals, and simple message –  'He's Coming Home', we were able to generate over 40 pieces of coverage across national, consumer and regional coverage at launch. Highlights included two pieces on Metro online, inclusion on BBC News Online and follow-up opinion pieces in The Independent and Yahoo.
Industry commentators also praised the powerful ad created with coverage featuring on many key sites including The Drum, Campaign Live and Ad Week.
More importantly, it generated waves of conversation on every social platform. Our attention-grabbing imagery was shared across Facebook, Twitter, Instagram, TikTok and LinkedIn, and on TikTok alone Women's Aid's post has seen 14.9 million views.
We delivered the campaign as part of our pro-bono commitment to support important causes.