Last night, 30 of the UK's leading young journalists gathered at the top of News UK's headquarters for the 2023 MHP Group 30 To Watch Journalism Awards, celebrating with leading editors, broadcasters and commentators as this year's Gold winners were announced.
Hosted by ITV News' Lucrezia Millarini, and with addresses from Victoria Newton, Editor-in-Chief at The Sun, and Head of Sky News, John Ryley, the Awards once-again brought together the rising stars of British news.
Now in their 12th year, the MHP Group 30 to Watch Journalism Awards are a major moment in the industry's calendar, judged by some of the biggest names in news.
More than 300 journalists entered this year, vying for one of 30 places among the winners, including nine prestigious Gold awards.
The 30 To Watch Gold Winners: 
City & Business – James Baxter-Derrington, Investment Week
Culture, Entertainment & Lifestyle – Abigail Buchanan, The Daily Telegraph
Health – Emily Townsend, Health Service Journal
International Affairs – Shayma Bakht, The Times
News & Investigations – Runako Celina, BBC News
Personal Finance & Consumer Affairs – Grace Gausden, The i
Politics – Noa Hoffman, The Sun
Production – Jade Liversidge, ITV News
Science, Environment & Technology – Cristina Criddle, Financial Times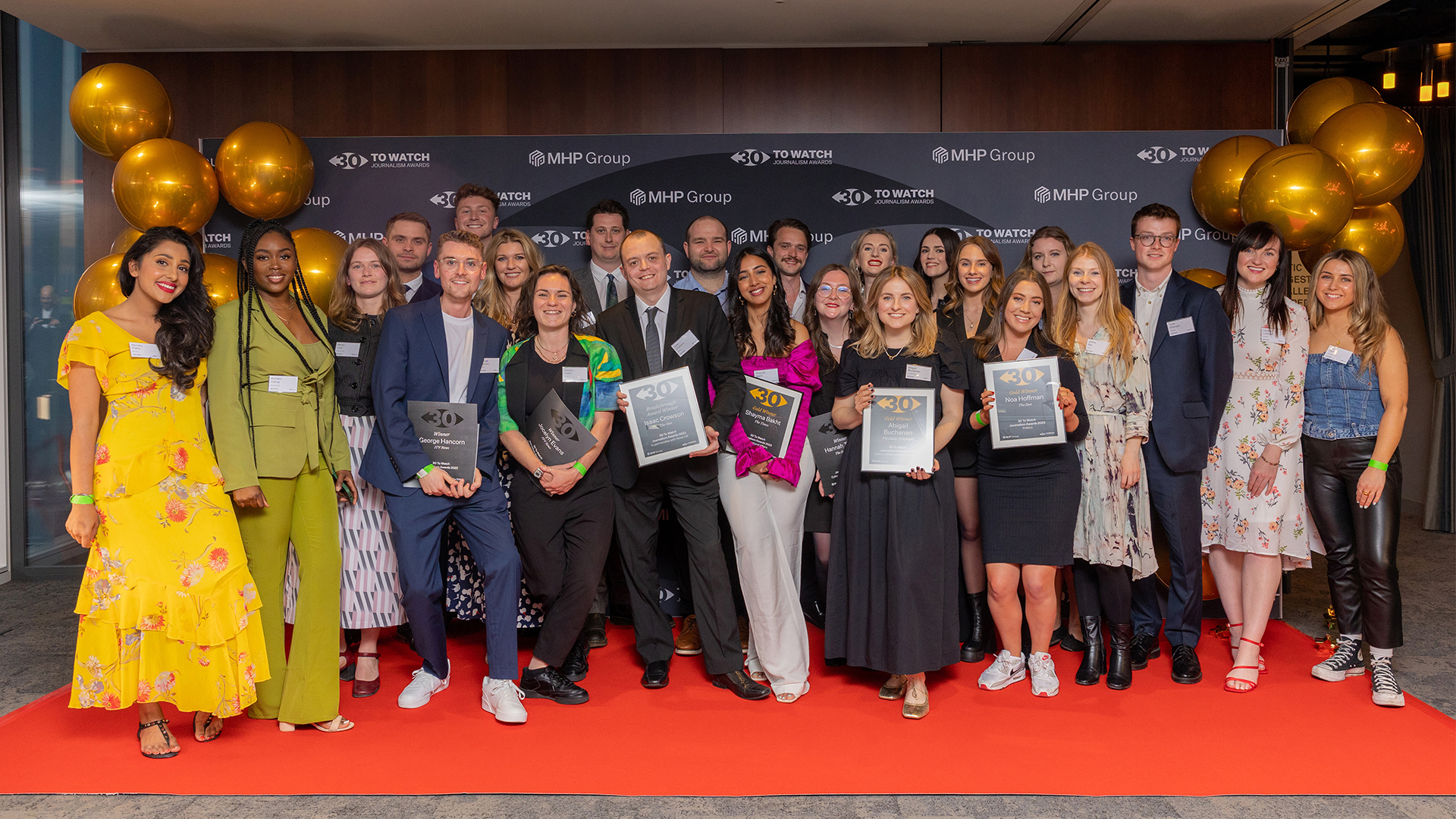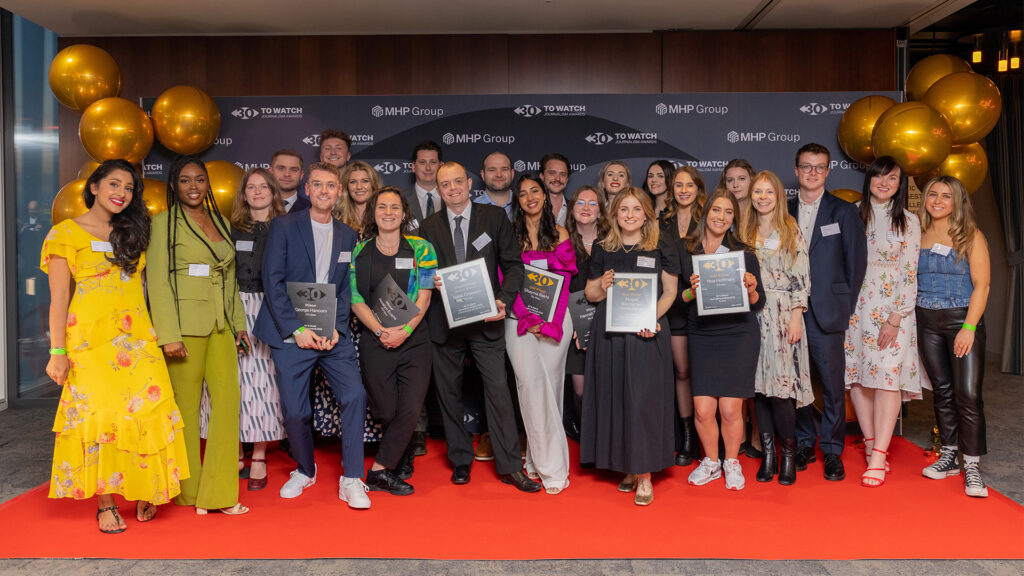 The Awards exist to promote opportunity and diversity in British news and this year, for the first time in the Awards' history, a special 'Breakthrough' award, was created in partnership with NewsUK to recognise the work of journalists from non-university backgrounds.
The inaugural Breakthrough Award was won by Isaac Crowson, The Sun.
Opening the ceremony, Victoria Newton commented:
"The quality of those entered was higher than ever before – with the judges being sent agenda-setting scoops, interviews and features, and hard-hitting investigations, published across many different platforms."
"There has never been a more important time to be a journalist. In the past year we have seen truly extraordinary events – three prime ministers, a war in Europe, the death of our Queen, and this coming weekend the coronation of a new King. Nobody chronicles these history-making moments better than the British media."
Chair of Judges, John Ryley, was also presented with the 30 to Watch Outstanding Achievement Award, in recognition of his contribution to British journalism, including supporting the careers of next generation news talent.
Presenting the Outstanding Achievement Award, MHP Group Head of Strategic Media Keith Gladdis said:
"John Ryley is in the rare position of having worked for all three major news broadcasters. In that time, he campaigned successfully for the first live televised Leaders Debate, brought cameras into British courts for the first time and launched the first dedicated daily climate programme.
"He has put innovation and talent at the forefront of Sky News. But there are always two ways to judge an editor – firstly from their product and secondly from the people who work with them. As one former colleague told me, John is 'Always pushing boundaries, challenging convention and always one step ahead. More importantly, he's always got your back.'"
Download the 2023 awards booklet
The full list of MHP Group 30 to Watch Journalism Award 2023 winners:
30 To Watch Breakthrough Award – In partnership with News UK
Isaac Crowson, The Sun
City & Business
James Baxter-Derrington, Investment Week
Todd Gillespie, Bloomberg
Lora Jones, BBC News
Culture, Entertainment & Lifestyle
Abigail Buchanan, Daily Telegraph
Jade Cuttle, The Times
Jocelyn Evans, ITV News
Hannah Tomes, The Spectator
Health
George Hancorn, ITV News
Xantha Leatham, Daily Mail
Emily Townsend, Health Service Journal
Highly commended – Phillip Sime, ITV News
International Affairs
Shayma Bakht, The Times
Lucy Marley, The News Movement
Oliver Telling, Financial Times
News & Investigations
Megan Agnew, The Sunday Times
Greg Barradale, The Big Issue
Runako Celina, BBC News
George Greenwood, The Times
Monika Plaha, BBC News
Personal Finance & Consumer Affairs
Emily Braeger, Daily Express
Grace Gausden, The i
Samantha Everett, BBC News
A special thank you to our independent judging panel this year:
Anne Alexander, Head of Politics, Good Morning Britain
Peter Campbell, Global Motor Industry Correspondent, Financial Times
Laura Donnelly, Health Editor, The Telegraph
Emily Fairbairn, Senior Associate Head of Features, The Sun
Richard Fletcher, Business Editor, The Times
Robert Guest, Deputy Editor, The Economist
Daniel Hewitt, Investigations Correspondent, ITV News
Natalie Kenway, Editor in Chief, ESG Clarity
Kat Lay, Health Editor, The Times
Paul Morgan-Bentley, Head of Investigations, The Times
Jim Norton, Tech Editor, Daily Mail
Kerri-Ann Roper, Head of Entertainment & Features, PA Media
John Ryley, Head of Sky News, Sky News
Colletta Smith, Cost of Living Correspondent, BBC News
Sonia Sodha, Columnist, The Guardian
John Stevens, Political Editor, Daily Mirror
Ruth Sunderland, Group Business Editor, Daily Mail and Mail on Sunday
Ben Wilkinson, Head of Personal Finance, Daily Telegraph