Take a second to think about the most terrifying thing you've ever done. Now multiply that by 100… that pretty much sums up the experience some of the Mischief team (Lewis Durkin, Joe Colquhoun, Annie Knight and myself) went through recently… and it was AWESOME. 
The Creative Shootout has grown to become one of the creative industry's most anticipated annual moments and rightly so. Those who have taken part have war stories and tales of comradery to share, while those who have observed, pour with admiration.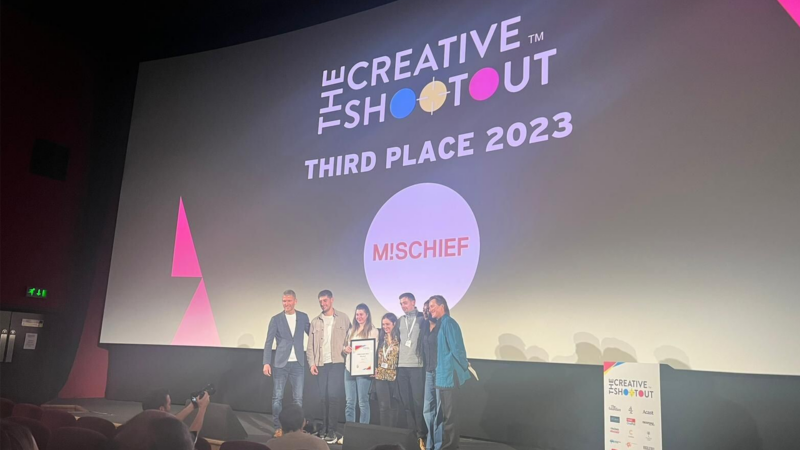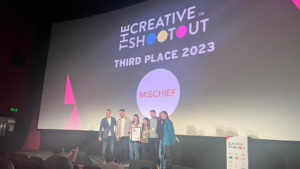 So what is it? 
It's a competition that invites teams of four from across the creative world, everything from PR, advertising, social and everything in between, to compete in a Dragon's Den style pitch in front of a live audience. The clincher? From the point they're given the brief (for a charity) they have just four hours to come up with the campaign before being required to present it to the room of approximately 200 people which includes judges and industry peers. Winner takes all, and by all I mean they win the opportunity to execute the campaign for the partner charity, this year FoodCycle – and win £10k. 
Before even getting to this stage, teams need to 'enter' by answering a mini brief. This whittles the competition down to a mere nine teams for the big day. This year's entry brief was to create an engaging piece of content of no longer than 60 seconds. Given FoodCycle is about tackling food waste, poverty and loneliness, we honed in on loneliness and created a powerful piece of content urging them to let us help break the 'cycle' of loneliness. It involved a guest appearance by a lovely – but lonely – elderly man, Keith. You can see it here. 
We thought it was a cracking piece of content and so did the judges because we made it through to the live final…a feat in itself!
The campaign
The brief for the final was to come up with a campaign that would create awareness for FoodCycle and differentiate it from a 'foodbank'. For those who aren't aware, FoodCycle takes leftover food from supermarkets and creates these into three course community dining meals for locals to attend. And anyone is invited, whether you're in need of a hot meal, company, both or neither (there's no judgement!) Ergo, like a foodbank it tackles food waste and poverty, but loneliness is what sets it apart. We decided our path to success was to come up with a campaign that showed how being 'nourished' is about more than the food you eat, but the company you eat it with. 
To deliver this message in a simple way that people of all ages could associate with, we leveraged a cultural touchpoint that's relevant for people of all ages and backgrounds – The Very Hungry Caterpillar. For those who need a refresher, the Very Hungry Caterpillar ate and ate and ate until he finally felt full – prompting his transformation into a butterfly. 
Our idea was to 'remaster' this to show how food on its own was not enough. In our proposed version, called 'The Very Lonely Caterpillar' even though he ate and ate and ate to the point of feeling full, he still wasn't nourished enough to make his transformation into the butterfly. He was still missing something. Enter, 'The Social Butterfly' a FoodCycle volunteer to inform him that it was the vital social connection that he was missing. Our Very Lonely Caterpillar went on to attend a FoodCycle meal where he took part in the community dining experience and voila(!) he finally felt nourished enough to transform into a 'social butterfly' himself, which, poetically, saw him become a FoodCycle volunteer too.  
Cue applause. 
We loved it, and so did the room. In fact, we were one of only three teams on the evening to receive more 'green lights' than reds in the live audience scoring. 
The competition was fierce and in the end we were awarded an admirable third place (we'd like to thank our parents, friends and fourth form English teachers for helping us get there… etc etc) 
In all seriousness, we're super proud of this result. We beat out approximately 60 other teams to even GET to the live final, and to finish in the top three is a career highlight for all of us.  
Kudos to all those who took part, it was quite the ride! We'll hopefully be back to give it another stab in the live final in 2024, until then, may you all transform into the butterflies you want to be.
By Charmaine Tanti