25 Jan 2022
What does sustainability really mean in the investment industry
Nearly two thirds of UK investors (62%) say they would take their money out of a 'sustainable' fund if they discovered it was failing to live up to its environmental and social credentials, according to research commissioned by MHP Mischief's Financial Services team.
Our research asked investors to consider what role sustainability plays in their personal investments, pensions and stock trading, and what they understand when presented with the wide variety of ESG labels used by financial services providers.
Amongst the key findings were: 
62% of investors would pull out of a fund that was failing to meet its sustainability credentials – with one in eight doing so as quickly as possible
Only half of investors trust that funds labelled as 'ethical' or 'ESG' actually invest in sustainable assets
Poor ESG communications mean investors struggle to understand what they are investing in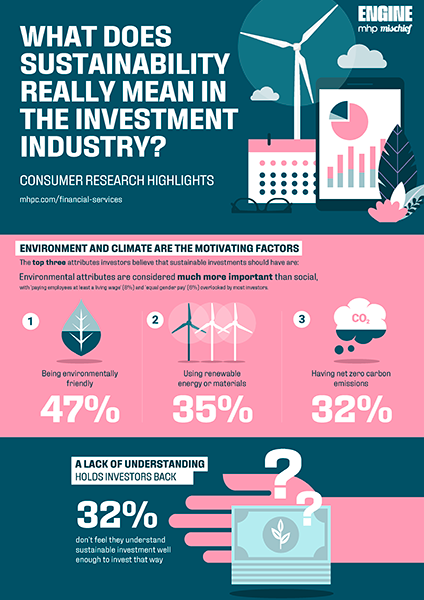 The research highlights that, while some people hold financial returns as their only objective for investing, there is clearly a growing group who are looking to see their sustainable beliefs reflected in the way their money is managed.
The fund management industry now faces the issue of giving investors the level of information they need to find funds that invest in line with their priorities, in an accessible and easy-to-understand manner – current labels and descriptions are not yet sufficient and with an increasing number of investors threatening to vote with their feet, addressing this critical communications challenge must be a key focus for the industry.
The headline findings from our research are summarised below – examining:
The most important factors for investors when assessing the sustainability
How individuals act on these beliefs
The extent to which current ESG labels are consistent with investor expectations
Differences in perspectives on sustainable investing between men and women
ENGINE-MHP-Mischief-What-Does-Sustainability-Really-Mean-in-the-Investment-Industry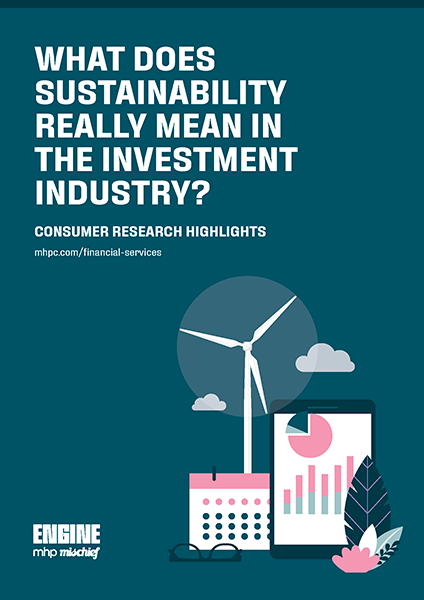 To explore the push towards a cleaner, fairer and more sustainable world economy – and the implications of some of the findings contained in our research – MHP Mischief Financial Services Director Cat Ommanney spoke to FT Moral Money Editor Simon Mundy.
They discuss:
The FT's editorial stance on sustainability
What the investment world looks like in 2030
Whether the focus on ESG is just a bubble
The relative importance of E, S and G factors.
The biggest communications challenge facing asset managers regarding sustainability
The main hurdles in reaching our climate change goals
The clarity of current ESG labelling
How the investment industry can best effect change.